The official website of the ICMAI offers CMA Inter study material. So candidates may get CMA Intermediate study materials by accessing the "Student Corner" section of the official site. Candidates studying for the CMA Intermediate exams in 2022 must use the ICMAI-supplied study materials.
The CMA Inter study material is comprehensive and will aid a thorough comprehension of the topics. ICMAI is aware, that students lack extensive knowledge of all topics and need assistance understanding the subject's fundamentals for solving the practical and theoretical questions. Therefore, they provide the study materials for the CMA Inter to help students master the fundamentals and in-depth understanding of each subject.
ICMAI's CMA Inter study modules 2022 cover every chapter-by-chapter subject covered on the CMA intermediate level. So to secure a good CMA Inter Result, students must follow the study material. To get information on how to access the CMA Inter Study Material PDF, continue reading this article.
How to Download the ICMAI CMA Inter Study Material for 2022 Exams?
As mentioned above, ICMAI has already published the CMA Inter Study Material online. Further, the study material covers the entire syllabus. After the CMA Inter registration, students will get the study modules at their address. Yet, in case you don't have access to study material at the moment or misplace your book, the PDF Format of study material comes in handy.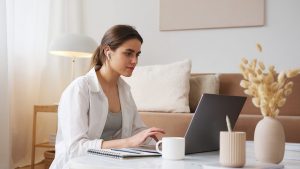 So to get the CMA Inter Study Material 2022 in PDF format, follow these simple steps.
First, browse the ICMAI's official website: icmai.in.
After visiting the website, click the "Students" tab.
Then, locate "Student's Connect Portal to your right side."
So you will get directed to "Students E-Services.
Further, scroll down and locate "Study Material" from the E-Academics Services.
So now you need to click on the "Study Material," and to your left side, you will find "Intermediate Study Material." Hence, click on that, browse the subjects, and download your preferred subject.
Overview of CMA Intermediate Syllabus
ICMAI publishes the CMA Intermediate syllabus for applicants enrolled in the course. Further, the students must thoroughly review each topic and the course outline to comprehend the exam's requirements. Additionally, the CMA Intermediate curriculum subjects are mostly connected to finances, cost accounting, taxes, and others and are broken down into subtopics.
Based on the "Syllabus 2016," the CMA Intermediate syllabus 2022 consists of two groups and eight papers (5-12). So students, after having the CMA Inter study material, follow the syllabus below and start your preparation.
So the CMA Intermediate syllabus has two groups: Group 1 and Group 2. Moreover, students can appear to choose both groups or one group at a time, depending on their preparation. Further, the CMA exams are held twice annually June and December.
Let us have a look at the CMA Inter Group I papers.
CMA Inter Group I Subjects
So the CMA Inter Group 1 has four subjects. Further, here are the weightage associated with various sub-topics from each paper.
Paper 5: Financial Accounting (FAC)
Accounting – Basics 25%
Preparation of Financial Statements 40%
Self-Balancing Ledgers, Royalties, Hire Purchase Installment System, Branch Departmental Accounts 20%
Accounting in Computerized Environment and Accounting Standards 15%
Paper 6: Laws & Ethics (LNE)
Commercial Laws 30%
Industrial Laws 25%
Corporate Law 35%
Ethics 10%
Paper 7: Direct Taxation (DTX)
Income Tax Act Basics 10%
Heads of Income and Computation of Total Income and Tax Liability 70%
Tax Management, Administrative Procedures, and ICDS 20%
Paper 8: Cost Accounting (CAC)
Introduction to Cost Accounting 40%
Methods of Costing 30%
Cost Accounting Techniques 30%
So you can find these subjects in your CAM Inter study material.
CMA Inter Group II Subjects
Similar to Group I, CMA Inter Group II has four subjects. So the subjects, along with their respective weightage, are as follows:
Paper 9: Operations Management & Strategic Management (OMSM)
Operations Management 70%
Strategic Management 30%
Paper 10: Cost & Management Accounting and Financial Management (CMFM)
Cost & Management Accounting 50%
Financial Management 50%
Paper 11: Indirect Taxation (ITX)
Cannons of taxations – Indirect Tax GST 80%
Customs Laws 20%
Paper 12: Company Accounts & Audit (CAA)
Accounts of Joint Stock Companies 50%
Auditing 50%
Preparation Tips for the CMA Intermediate Exams
Now that you have the CMA Inter study material and the syllabus, it is time to start your preparation. Follow these preparation tips provided by VSI Jaipur to excel in the Intermediate exams.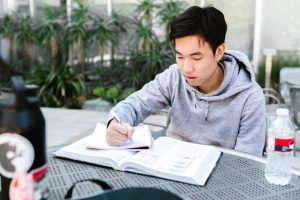 1. Decide Which Group To Clear
As a part of your CA Inter preparation, you must always decide which group to clear first. You may either opt for Group I, II or both groups. However, always make this decision depending on your preparation level and confidence. Further, always follow the CMA Inter study material since it covers all the course content in detail.
If you feel you have a strong hold on any of the groups and are confident that you can answer well, go for that group. Moreover, try not to overburden or stress yourself by attempting both groups.
2. Develop A Study Plan
During your CA Intermediate preparation, make study your top priority, and when doing so, always have a plan or timetable. So your timetable must devote time to both theory and practical subjects.
Avoid rushing by breaking your study sessions into smaller parts. Study for 1 hour and take a quick 15 minutes to break for stretching and grabbing your essentials. Concentrate your efforts where they are required most. Further, determine your performance in each subject and evaluate which subject needs more attention.
When learning from CMA Inter study material, underline essential concepts, particularly unknown ones. Moreover, reread to ensure understanding later on. Two weeks before the CMA examination, devote yourself to the last review.
3. Choose A Productive Environment
Students often see a productive study setting differently since everyone has a varied learning style. Do you prefer complete silence? Do you like to hear music? Do you rather be in a place with fewer distractions instead? So understand where you can concentrate better and set up your study environment accordingly.
4. Be Physically and Mentally Strong
Studying is exhausting, particularly when combined with other commitments and pursuits. Moreover, maintaining good mental and physical health is one of the greatest methods to avoid study fatigue and maintain productivity.
Daily study breaks, exercising, or spending time with loved ones and friends can help maintain mental health.
Conclusion
I hope this post will help you to access the CMA Inter study material and how to prepare for your examinations. For the best CMA guidance and coaching, join VSI Jaipur.